Mignolo e Prof.
Immagini,personaggi,episodi,streaming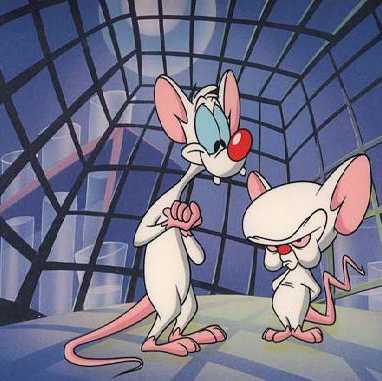 Mignolo e Prof. (Pinky and the Brain nella serie originale) sono due topi bianchi da laboratorio (del famoso Laboratorio ACME dei cartoni animati di Bugs Bunny e Willy il Coyote) sovrasviluppati geneticamente, protagonisti tra il 1995 e il 1998 di un cartone animato della Warner Bros.
I due, sono apparsi per la prima volta nel 1993 nella serie di cartoni animati Animaniacs; ottennero un tale successo da diventare, così, i protagonisti di una serie di 65 episodi a loro interamente dedicata.
La serie racconta la smania di potere di Prof., la mente, che in ogni episodio coinvolge, Mignolo, il braccio, in improbabili piani per conquistare il mondo, ma invano, infatti falliscono puntualmente. Come l'originale Animaniacs, questa serie è ricca di citazioni, sempre in chiave parodica, di film e/o romanzi famosi.
Personaggi Mignolo col Prof.
Prof.
Prof. (dal nome originale: the Brain) è il personaggio più intelligente della serie. Geniali sono le sue idee sulla conquista del mondo mediante surreali piani che, però, falliscono ripetutamente in ogni episodio. Prima di diventare un topo geniale dall'intelligenza eccezzionale, era un grande amico di un criceto chiamato Palladineve, quando però una macchina del loro laboratorio li trasformò in geni, la loro amicizia si ruppe ed i due sono diventati acerrimi nemici.
Ha una testa molto grossa e larga, per contenere un cervello tanto grande, ed una coda arrotolata a spirale, che spesso usa per aprire il lucchetto della gabbia. Appare freddo e sprezzante e parla spesso con tono inespressivo, tuttavia, ha un senso dell'umorismo sottile. Prof. vede la sua inevitabile salita al potere come un beneficio per il mondo, invece che come pura megalomania.
Mignolo
Mignolo (dal nome originale: Pinky) è l'altro topo geneticamente modificato che divide la gabbia con il suo migliore amico Prof.; ma è senza dubbio meno intelligente, anzi piuttosto stupido per il più delle volte. Ha una coda più liscia e lunga, i denti davanti sporgenti ed è molto più alto del Prof. Molte esclamazioni sono ormai diventate celebri nella versione italiana, come: Nacchio!, Zeppola!, Aloppez! Accipoffi, Poffi!, Gnoccolo!
Mignolo è molto più aperto di Prof. e non lascia che che i problemi gli rovinino la giornata, specialmente perché è troppo sventato per accorgersene. Mignolo lavora col Prof. nonostante quest'ultimo lo insulti costantemente, probabilmente per la sua ingenuità e demenzialità, ed alle volte lo picchi sulla testa. Mignolo possiede alcune abilità speciali derivanti dall'ingegneria genetica applicata su di lui. Ogni tanto levita e sembra apparentemente capace di telecinesi.
Titolo Originale:
Autore/Casa/Studio:
1ª TV:
Episodi: 65 (13 episodi spin-off) (completa)
Titolo Originale:
Autore/Casa/Studio:
1ª TV:
Episodi: 13 (completa)
Immagini
» per vederle tutte apri:
Immagini Mignolo e Prof.
Episodi
Mignolo e Prof.
1 Das topo (Das mouse)
2 Uomini e topi (Of mouse and man)
3 Tokio s'ingigantisce (Tokio grows) Un'intelligenza da vendere (That smarts) Il bulbo (Brainstem)
4 Mignolo e la nebbia (Pinky and the fog) Dove nessuno è mai andato (Where no mouse has gone before) Formaggi all'appello (cheese roll call)
5 Profania (Brainania)
6 Tv o non TV (TV or not TV)
7 Napoleone Profaparte (Napoleon Brainaparte)
8 Palla di Neve (Snowball)
9 Il Natale di Mignolo e Prof ( A Pinky & the Brain's Christmas)
10 Il Giro del Mondo in 80 nacchi (Around the World in 80 narf)
11 Volare (Fly)
12 Abramo ambulante (Ambulatory Abe) Il topo della Mancha (Mouse of la Mancha)
13 Il terzo topo (The third mouse) La visita (The visit)
14 E' solo un mondo di carta (It's only a paper world)
15 Collezionale tutte (Collect 'em all) Mignolasso (Pinkasso)
16 Prof e il suo piano da oltre lo spazio (Plan Brain from outer space)
17 La mummia (The mummy) Robin Prof (Robin Brain)
18 Pinky, il candidato (The Pink candidate)
19 La canzone di Prof (Brain's song)
20 Dominazione mondiale (Welcome to the jungle)
21 Solo una spuntatina (A little off the top)
Megalomani anonimi (Megaloniacs anonymous)
22 Il Prof del futuro (Brain of the future)
23 Prognolo (Brinky)
24 Due topi e una culla (Two mice and a baby) Il labirinto (The maze)
25 Lascia fare i castori (Leave it to beavers) (Cinebrania)
26 Operazione canestro (Hoop schemes)
27 Questo vecchio topo (This old mouse)
28 Mignolo, Prof... e Larry (Pinky & the Brain... and Larry) Dove giocano i cervi e i topilopi (Where the deer and the mouselopes play)
29 I miei Feldman, i miei amici (My Feldmans, my friends)
30 Prof noir (Brain noir)
31 Un'analisi meticolosa della storia (A meticolous analysis of history) Strano, non sembri un Renano (Funny, you don't look Rheennish)
32 I topi non ballano (Mice don't dance) Prof, cervello spremuto (Brain drained)
33 Le mazzate di Prof (Brain's bogie) Come hai detto, Terra? (Say what, Earth)
34 All you need is Nacchio (All you need is Narf) Il piano di Mignolo (Pinky's plane)
35 Prof attoria (Brain acres)
36 Il protocollo di Mignolo (The Pinky protocol)
37 Lampo di genio (Brain storm)
38 Vita vissuta (The real life)
39 Mignolo e il fabbricante di Prof (Pinky and the brainmaker) Calvin Prof (Calvin Brain)
40 Mignolo Sciccoso (Pinky Suavo) L.O.R.O. (T.H.E.Y.)
41 A modo di Prof (Brain's Way)
42 Profi Jack (Brainy Jack)
43 Halloween (A Pinky & the Brain's Halloween)
44 Malattia di Broadway (Broadway malady)
45 E questo NON è tutto, gente (But that's not all, folks)
46 Nego il mio ego (Leggo my ego) Grande in Giappone (Big in Japan)
47 Il sarto e i topi (The tailor and the mice) Bah, landa desolata (Bah, wilderness)
48 Operazione otaria (Operation Sea Lion) Topi a lingua sciolta (You said A mouseful)
49 (Pinky at the bat) (Schpiel-Borg 2000)
50 (You'll never eat food pellets in this town again)
51 Le avventure megamaniacali di Proffi the Poo (Brainy the Poo) Il melanconico Prof (Melancholy Brain)
52 La serata libera di Prof (Brain's night off) Prof e le bellezze al bagno (Beach blanket Brain)
53 (The family that Poits together, Narfs together)
54 (Inherit the wheeze)
55 (To Russia with lab mice)
(Hickory dickory bonk)
56 Come visto da Mignolo (Pinky's POV) Il veramente grande dittatore (The really great dictator)
Cibo per cervello (Brain food)
57 Ora è la volta di Mignolo (Pinky's turn) La vostra amica: la conquista del mondo (Your friend, global domination)
58 (Dangerous brains)
59 (A leggendary tail) (Project Brain)
60 (What ever happened to baby Brain) (Just say Narf)
61 (The Pinky and the Brain reunion special)
62 (Brainwashed part 1: Brain, Brain go away!)
63 (Brainwashed part 2: I'm not a hat)
64 (Brainwashed part 3: Wash harder)
65 Warner stellari (Star Warners)
Mignolo, Elmyra e Prof.
Patty Ann - Gee, Your Hair Spells Terrific
Cute Little Alienhead - Better Living Through Cheese
My Fair Brainy! - The Cat Who Cried Roar!
The Girl With Nothing Extra - Narfily Ever After
The Icky Mouse Club - The Man From Washington
At the Hop! - Pinky's Dream House
Yule Be Sorry - How I Spent My Weekend
Wag the Mouse - A Walk in the Park
Squeeze Play - The Ravin!
Teleport a Friend - That's Edutainment
Mr. Doctor
Fun, Time, and Space - Hooray for Meat
Party Night - The Mask of Braino