Tom & Jerry
Immagini,personaggi,episodi,streaming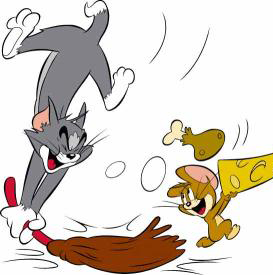 Tom, il gatto, e Jerry, il topo, sono due personaggi dei fumetti creati nel 1939 e negli anni 40 a famosi cartoni animati dalla Hanna e Barbera per la Metro Goldwyn Mayer.
Gli autori si erano, però, ispirati a due terribili ragazzini in perenne scontro tra loro.

Il primo cortometraggio animato con questi due personaggi è stato "Puss gets the boot".
In quel tempo il gatto non si chiamava ancora Tom, bensì Jasper, mentre il topolino non aveava ancora un nome.

I personaggi
Tom è un gatto opportunista;il suo divertimento è dominare gli animali più piccoli ed indifesi. Il suo stile di vita è quello di un gatto domestico: mangiare, dormire e divertirsi. Quando, spronato dalla padrona di casa, (nei primi cortometraggi era una grossa governante di colore), stufa di continui saccheggi al frigorifero, si lancia all'inseguimento del topolino ma l'ingegno e l'astuzia di quest'ultima, aggiunta alla sua stupidità, lo fa immancabilmente fallire.

Jerry, topo d'appartamento, si è costruito una tana in miniatura nelle intercapedini dei muri della casa di Jerry. Al suo interno riproduce in tutti i particolari le comodità della casa umana (un letto, un divano, un cassettiere, quadri e soprammobili ). Sembra innocuo, piccino e rotondetto,ma possiede però buona velocità, solido carattere e grande astuzia. Riesce spesso a procurarsi il cibo a danno di Tom che deve difenderlo. All'occorrenza Jerry, per soccorrere un suo pari in difficoltà, risulta determinato ed affronta il nemico naturale, anche se è più grosso e forte di lui, .
Nemici o amici?
Quella che a prima vista sembrerebbe una naturale rivalità rassomiglia piuttosto ad una guerra di dispetti tra due compagni di vita che si accapigliano per il solo gusto di farlo e non una vera caccia alla preda.
Per Tom, rincorrere il topino è un gioco divertente e gratificante, se non quando lo disturba ed è costretto a farlo smettere. Jerry, anziché scappare nel suo nascondiglio, ritiene molto più divertente punzecchiare il gatto fino a farlo infuriare. Quando Tom si innamora di una gattina, dimenticandosi di tutto e di tutti, è Jerry che si ingelosisce; quando quest'ultimi è in pericolo di vita, Tom si preoccupa sempre di salvarlo. Inoltre i due non mancano mai di coalizzarsi specie quando, nel loro mondo, arriva un nemico comune, come ad esempio un gatto "troppo efficiente" nel cacciare i topi, oppure un gruppetto di gattini pestiferi.

Immagini
» per vederle tutte apri:
Immagini Tom & Jerry
Episodi
Tom & Jerry Show
1. No Way, Stowaways
The Ski Bunny
Stay Awake or Else...

2. No Bones About It
An Ill Wind
Beach Bully

3. Mammoth Manhunt
The Wacky World of Sports
Robin Ho Ho

4. Safe But Not Sorry
La talpa (Gopher Broke)
The Super Bowler

5. Tricky McTrout
The Tennis Menace
Cosmic Cat and Meteor Mouse

6. Castle Wiz
Grim and Bear It
The Flying Sorceress

7. Gattositter (The Kitten Sitters)
Termites Plus Two
Planet Pest

8. The Hypochondriac Lion
Give 'Em the Air
The Egg and Tom and Jerry

9. Watch Out, Watch Dog
The Super Cyclists
The Police Kitten

10. The Outfoxed Fox
Towering Fiasco
The Lost Duckling

11. Beanstalk Buddies
Two Stars Are Born
Son of Gopher Broke

12. The Sorcerer's Apprentices
Hold That Pose
The Supercape Caper

13. Chickenrella
Double Trouble Crow
Jerry's Nephew

14. See Dr. Jackal and Hide
Planet of the Dogs
The Campout Cutup

15. Triple Trouble
The Bull Fighters
Cruise Kitty

16. It's No Picnic
Big Feet
The Great Motorboat Race
The Tom and Jerry Comedy Show
01 "A Connecticut Mouse in King Arthur's Court"
02 "Cat in the Fiddle"
03 "Farewell Sweet Mouse"
04 "Get Along Little Jerry"
05 "Gopher it, Tom"
06 "Heavy Booking"
07 "Invasion of the Mouse Snatchers"
08 "Jerry's Country Cousin"
09 "Kitty Hawk Kitty"
10 "Mechanical Failure"
11 "No Museum Peace"
12 "Most Wanted Cat"
13 "New Mouse in the House"
14 "When the Rooster Crows"
15 "Superstocker"
16 "Under the Big Top"
17 "The Trojan Dog"
18 "The Puppy Sitters"
19 "The Plaid Baron Strikes Again"
20 "Mouse Over Miami"
21 "The Great Mousini"
22 "Pie in the Sky"
23 "Stage Struck"
24 "Spike's Birthday"
25 "Snow Brawl"
26 "School for Cats"
27 "Say What?"
28 "The Incredible Shrinking Cat"
29 "Save That Mouse"
30 "Pied Piper Puss"
The Tom & Jerry Kids
Stagione 1
1. Flippin' Fido / Dakota Droopy & the Lost Dutch Boy Mine / Dog Daze Afternoon
2. Toys Will Be Toys / Droopy Delivers / My Pal
3. Prehistoric Pals / Super Droop & Dripple Boy Meet the Yolker / Marvelous Marvin
4. Bat Mouse / Puss n' Pups / Outer Space Rover
5. The Vermin / Aerobic Droopy / Mouse Scouts
6. Sugar Belle Loves Tom, Sometimes / Mall Mouse / Super Duper Spike
7. Cosmic Chaos / Droopy of the Opera / Beach Bummers
8. Gator Baiter / Hoodwinked Cat / Medieval Mouse
9. Clyde to the Rescue / Droopio & Juliet / Maze Monster Zap Men
10. Crash Condor / Yo Ho Ho...Bub / Scrub-a-Dub Tom
11. No Biz Like Snow Biz / The Maltese Poodle / Cast Away Tom
12. The Little Urfulls / Droopo: First Bloodhound / Indy Mouse
13. Exterminator Cometh / Foreign Legion Frenzy / Urfo Returns
14. Circus Antics / Tres Sheik Poodles / Head Banger Buddy
15. Pump 'Em up Pals / Droopyland / The Exterminator Cometh...Again
16. Jerry's Mother / Stage Fright / Tom's Terror
17. Who Are You, Kitten? / Broadway Droopy / Pussycat Pirates
18. Father's Day / Scourge of the Sky / Lightning Bolt the Super Squirrel
19. Amademouse / Muscle Beach Droopy / Perky the Fish Pinching Penguin
20. Slowpoke Antonio / Haunted Droopy / Wildmouse
21. Catch That Mouse / Good Knight Droopy / Birthday Surprise
22. Cleocatra / McWolfenstein / Chase School
23. Zorrito / Deep Sleep Droopy / Hard to Swallow
24. The Little Thinker / Rap Rat Is Where It's At / My Pet
25. The Calaboose Cal / Return of the Chubby Man / Chumpy Chums
26. Jerry Hood & Merry Meeces / Eradicator Droopy / Tyke on a Hike
Stagione 2
1. The Planet Dogmania / McWolfula / Catawumpus Cat
2. Pest in the West / Double 'O' Droopy / Tom, the Babysitter
3. Gas Blaster Puss / Fear of Flying / Mess Hall Mouser
4. Toliver's Twist / Boomer Beaver / Pony Express Droopy
5. Krazy Klaws / Tyke on a Bike / Tarmutt of the Apes
6. Tom's Mermouse Mess-Up / Here's Sand in Your Face / Deep Space Droopy
7. Termi-Maid / The Fish That Shoulda Got Away / Droopy's Rhino
8. The Break n' Entry Boyz / Love Me, Love My Zebra / Dakota Droopy Returns
9. Doom Manor / Barbecue Bust-Up / The Fabulous Droopy & Dripple
10. S.O.S# Ninja / The Pink Powder Puff Racer / Car Wash Droopy
11. Lezioni di sci/ Il guardiano (Go-Pher Help / Downhill Droopy / Down in the Dumps)
12. Catastrofegatti/ Drago/ Toposcatenato 2 (Catastrophe Cat / Droopy & the Dragon / Wildmouse II)
13. Per uno stufatino in più/ Doppio guaio per Tom (Tom's Double Trouble / High Seas Hijinks / Just Rambling Along)
Stagione 3
1. Verso il nuovo mondo/Grande rodeo (The Watchcat / Go with the Floe / Pooches in Peril)
2. Catch as Cat Can / I Dream of Cheezy / Fraidy Cat
3. Sing Along with Slowpoke / Dakota Droopy & the Great Train Robbery / Droopy Law
4. Stunt Cat / See No Evil / This Is No Picnic
5. Scrapheap Symphony / Circus Cat / Cajun Gumbo
6. Hunter Pierre / Battered Up / Conquest of the Planet Irwin
7. Big Top Droopy / Jerry & the Beanstalk / High Speed Hounds
8. Penthouse Mouse / Twelve Angry Sheep / The Ant Attack
9. Mouse with a Message / It's the Mad, Mad, Mad, Mad, Dr# McWolf / Wild World of Bowling
10. Star Wrek / Droop & Deliver / Swallow the Swallow
11. Lightning Bolt-The Super Squirrel-Strikes Again / Surely You Joust / Rootin' Tootin' Slowpoke
12. Firehouse Mouse / The Wrath of Dark Wolf / Pound Hound
13. The Ghost of Castle McLochjaw / A Thousand Clones / Roughing It
Stagione 4
1. As the Cheese Turns / McWerewolf of London / Grab That Bird
2. Cave Mouse / McWolfenstein Returns / Destructive Construction
3. Alien Mouse / Droopy Man / Abusement Park
4. Martian Mouse / Dark Wolf Strikes Back / Knockout Pig
5. Musketeer Jr# / Galaxy Droopy / Return of the Ants
6. Droopy Man Returns / Tom Thumped / Droopnet
7. Right Brother Droopy / Cheap Skates / Hollywood Droopy
8. Fallen Archers / When Knights Were Cold / The Mouth Is Quicker Than the Eye
9. Mutton for Punishment / Cat Counselor Cal / Termite Terminator
10. Bride of McWolfenstein / Hillbilly Hootenanny / El Smoocho
11. Droopy Hockey / Hawkeye Tom / No Tom Like the Present
12. Dirty Droopy / Two Stepping Tom / Disc Temper
13. Order in Volleyball Court / King Wildmouse / Space Chase
Tom & Jerry Tales
1° Stagione
1. Tiger Cat
2. Feeding Time
3. Polar Peril
4. Joy Riding Jokers
5. Cat Got Your Luggage?
6. City Dump Chumps
7. Way Off Broadway
8. Egg Beats
9. Cry Uncle
10. Bats What I Like About the South
11. Fraidy Cat Scat
12. Tomb it May Concern
13. Dino-Sores
14. Freaky Tiki
15. Prehisterics
16. Digital Dilemma
17. Hi, Robot
18. Tomcat Jetpack
19. Fire Breathing Tom Cat
20. Medieval Menace
21. The Ithc
22. Ho, Ho Horror
23. Dog-Gone Hill Hog
24. Northern Light Fish Fight
25. Cat Nebula
26. Martian Mice
27. Spaced Out Cat
28. Octo Suave
29. Beach Bully Bingo
30. Treasure Map Scrap
31. Destruction Junction
32. Battle of the Power Tools
33. Jackhammered Cat
34. Tin Cat of Tomorrow
35. Beefcake Tom
36. Tom Cat, Superstar
37. Piranha Be Loved (by You)
38. Spook House Mouse
39. Abracadumb
2° Stagione
1. More Powers to You
2. Catch Me Though You Can't
3. Power Tom
4. Zent Out of Shape
5. I Dream of Meanie
6. Which Witch!
7. Don't Bring Your Pet to School Day
8. Cat Show Catastrophe
9. The Cat Whisperer with Casper Lombardo
10. Adventures in Penguin Sitting
11. Cat of Prey
12. Jungle Love
13. Invasion of the Body Slammers
14. Monster Con
15. Over the River and Boo the Woods
16. Xtreme Trouble
17. A Life Less Guarded
18. Sasquashed
19. Summer Squashing
20. League of Cats
21. Little Big Mouse
22. Bend It Like Thomas
23. Endless Bummer
24. Game, Set, Match
25. The Declaration of Independunce
26. Kitty Hawked
27. 24 Karat Kat
28. Hockey Schtick
29. Snow Brawl
30. The Abominable Snowmouse
31. DJ Jerry
32. Kitty Kat Blues
33. Flamenco Fiasco
34. You're Lion
35. Kangadoofus
36. Monkey Chow
37. Game of Mouse & Cat
38. Babysitting Blues
39. Catfish Follies